Windscreen Care for Spring
A clean, clear windscreen is essential for good vision but a bonded windscreen is also an integral part of the vehicle body shell and contributes towards overall strength and stiffness.
Wiper blades may last up to two years at the most but it's good practice to renew them once a year. New blades clear the screen more effectively and help reduce the dazzling effect of the sun.
Keep the screen-wash topped up using a good quality screen-wash additive to help clean the screen all year round as well as reduce freezing in cold weather.

Stone damage
Check your screen for damage.  Depending on size and position a chip on your windscreen can be a distraction or even impair vision.
Damage of up to 45mm across can sometimes be repaired, depending on where in the screen it is situated. If the damage is right in front of the driver – in the area known as the 'A zone' – only damage up to 10mm can be repaired. This is slightly less than the size of a 5 pence coin.
Windscreens Online will repair the damage which involves cleaning and drying the damaged area and filling it with a clear resin with similar optical properties to glass.
The damage won't completely disappear but the repaired area will be much less visible and will have a smooth surface so wipers aren't damaged.
If ignored, small chips can grow and become irreparable. Secondary cracks can form under the combined effect of heat, moisture, frost, dirt and vibration. Any dirt or moisture entering the chip will make it more difficult to produce a visually acceptable repair so it's important to act quickly.
Depending on where the damage is located, some windscreen chips will result in an MOT failure if not attended to.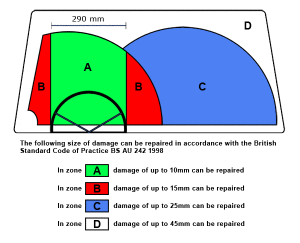 Immediately In front of the driver (The 'A-zone' – a 290mm wide band centered on the steering column and bounded top and bottom by the wiper swept area) – damage larger than 10mm across will normally result in a failure and needs to be repaired.
Elsewhere on the windscreen – damage larger than 40mm across will normally result in failure. See image).
Wipers
Check your windscreen wipers, your car can fail the MOT if a wiper blade is insecure, missing, or in such a condition that it doesn't clear the windscreen effectively to give you an adequate view of the road (through the windscreen) to the left and right sides of the vehicle, as well as to the front.
Get ready for Spring and enjoy the sunshine.

Print